RENDICION DE JAPON EN EL USS MISSOURI
El 2 de septiembre de 1.945, a bordo del acorazado Missouri, Japón firmó finalmente su rendición incondicional. Fueron necesarias dos bombas atómicas para quebrar la obstinación de un pueblo que resistía, hasta más allá de la razón, el reconocimiento de lo inevitable: la derrota.
El ministro Shigemitsu, el general Umezu, el contralmirante Tomioka y otros altos funcionarios suscribieron el acta de capitulación ante el comandante supremo de las fuerzas occidentales en el teatro de operaciones de Extremo Oriente, el general Douglas MacArthur, a bordo del acorazado estadounidense Missouri el 2 de septiembre de 1945
JAPAN SURRENDER
The surrender of Japan in August 1945 brought World War II to a close. On August 10, 1945, after the invasion of Manchuria by the Soviet Union and the atomic bombings of Hiroshima and Nagasaki, Japan's leaders at the Imperial conference (gozenkaigi) decided, in principle, to accept the uncompromising terms the Allies had set down for ending the war in the Potsdam Declaration. It was after several more days of behind-the-scenes negotiations and a failed coup attempt that Emperor Hirohito gave a radio address to the nation, the Imperial Rescript on Surrender, announcing the acceptance on August 15. In this address, the Emperor emphasized the role of the atomic bombings in his decision, saying, "The enemy now possesses a new and terrible weapon with the power to destroy many innocent lives and do incalculable damage". A separate rescript issued to Japan's armed forces on August 17, did not mention the atomic bombings but emphasized the Soviet invasion. On August 28, the occupation of Japan by Supreme Commander of the Allied Powers began. On September 2, the Japanese government signed the Japanese Instrument of Surrender, which officially ended World War II. Some isolated commands of Japan's far-flung forces refused to surrender for months and years after.
FOTOS
100% ORIGINALES . Papel Velox. Tamaño aprox 15 x 9 cm
1.- Foto Firma Rendición Almirante Americano CHESTER NIMITZ . Papel Velox. Precio 60 euros
Para saber mas del Almirante Chester NIMITZ Pulsa Aqui
2.-Foto Douglas MACARTHUR junto al Almirante NIMITZ a Bordo del Missouri junto a la delegación de Militares antes de la Firma. Precio 45 euros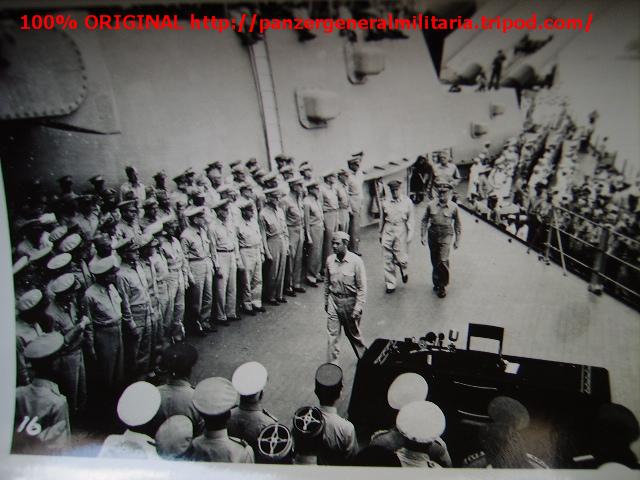 Para saber as de Douglas MACARTHUR Pulse Aqui
3.-Foto Douglas MACARTHUR junto a la delegación militar aliadaen el Missouri . Precio 50 euros