El 25 de abril de 1945, Mussolini intentó huir a Suiza con su amante, Claretta Petacci, pero ambos fueron capturados en las cercanías de Dongo provincia de Como por partisanos italianos, cuando la decisión ya había sido tomada, quienes les fusilaron en Giulino di Mezzegra (en las proximidades del lago de Como) el 28 de abril de 1945 por orden del Comité de Liberación Nacional.Los cadáveres de Benito Mussolini, su amante Clara Petacci y otras quince personas representantes del Fascismo italiano, entre ellos Alessandro Pavolini, Paolo Zerbino, Incola Bombacci, Luigi Gatti, secretario personal de Mussolini, y varios ministros, fueron transportados y expuestos públicamente colgados por los pies cabeza abajo del techo de un distribuidor de gasolina en Piazza Loreto de Milán el 29 de abril de 1945, donde un año antes fueron fusilados y expuestos quince partisanos como represalia por un atentado a un camión alemán. La muchedumbre enfurecida se ensañó con los cuerpos con insultos y escupitajos
April 25, 1945, Mussolini tried to flee to Switzerland with their lover, Claretta Petacci, but both were captured in the neighborhood of Dongo province of As by Italian partisans, when the decision already had been taken, who they executed them in Giulino I gave Mezzegra (in the proximity of the lake of Like) April 28, 1945 by order of the Committee of Liberation National.The corpses of Benito Clearly Petacci and other fifteen people representatives of the Italian Fascism, among them Alessandro Pavolini, Paolo Zerbino, Incola Bombacci, Luigi Gatti, personal assistant of Mussolini, and various ministers, they were transported and exposed publicly hanging by the feet down the head of the ceiling of a distributor of gasoline in Piazza Loreto of Milan April 29, 1945, where a year before they were executed and exposed fifteen partisans as retaliation by To a German truck. The crowd maddened was infuriated with the bodies
FOTOS 100% ORIGINALES
EJECUCION DE MUSSOLINI
PHOTOS 100% ORIGINAL
MUSSOLINI EXECUTION
1.- Foto Ejecución Mussolini. , Detalle Foto Mussolini y clara Petacci colgados. 100% original Precio 80 euros RESERVADA

2.- Foto Ejecución Mussolini. , Miliciano junto a los cadeveres de Mussolini y sus colaboradores ( Mussolini en primer término ). 100% original Precio 80 euros RESERVADA

RESCATE DE MUSSOLINI POR OTTO SKORZENY EN EL SASSO
Otto Skorzeny se dirigió rápidamente al Cuartel General del Este, la Wolfsschanze o la Guarida del lobo, donde Hitler lo seleccionó de entre seis jefes de la SS para que llevara a cabo el rescate de Il Duce Benito Mussolini, que acababa de ser traicionado por su partido y arrestado, siendo desconocido su paradero. Se le puso bajo las órdenes del jefe de paracaidistas alemanes General Kurt Student. Se descubrió que estaba en el Hotel Campo Imperatore en el pico más alto de los Apeninos, el Gran Sasso.

En efecto Mussolini estaba como prisionero en ese hotel y los carabinieri que lo custodiaban tenía órdenes de ejecutarlo ante el primer intento de rescate o fuga.

Skorzeny pudo percatarse que la operación era arriesgadísima, dada la topografía del terreno que solo daba como solución el aterrizaje sobre una pequeña explanada al borde de un alcantilado, contiguo al hotel.

La operación requería del uso de planeadores y combatientes profesionales experimentados, se emplearon comandos paracaidistas en la misión. Las probabilidades de éxito eran apenas un 20%.

El 12 de septiembre de 1943, a las 12 y 30 del mediodía, Skorzeny junto con nueve aeroplanos despegó hacia el Gran Sasso para rescatar a Mussolini.

La operación llamada Unternehmen Eiche fue llevada a cabo exitosamente y se rescató a Mussolini sin un sólo disparo, pues los carabinieri se rindieron en el acto.

Mussolini fue embarcado en una avioneta Storch donde también viajó el mismo Skorzeny como guardaespaldas de Mussolini, el piloto de la Storch protestó pues el avión era biplaza y Skorzeny y Mussolini sobrepasaban con creces la capacidad de la avioneta de reconocimiento. Skorzeny insistió y el aeroplano a duras penas remontó el aire.

MUSSOLINI RAID IN SASSO

Mussolini was being transported around Italy by his captors, whilst Skorzeny, selected personally by Hitler and to carry out the mission, was tracking him.

Intercepting a coded Italian radio message, Skorzeny used his own reconnaissance to determine that Mussolini was being imprisoned at Campo Imperatore Hotel, a ski resort at Campo Imperatore in Italy's gran Sasso, high in the Apenine Mountains. On 12 sept 1943, Skorzeny joined the team to rescue Mussolini in a high-risk glider mission. The commandos crashed their gliders into the nearby mountains, then overwhelmed Mussolini's captors without a single shot being fired. Skorzeny attacked the radio operator and his equipment, and formally greeted Mussolini with "Duce, the Führer has sent me to set you free!" to which Mussolini replied "I knew that my friend would not forsake me!" Mussolini was first flown from Campo Imperatore in a Luftwaffe Fi 156 Storch liaison aircraft, then flown on to Viena (where he stayed overnight at the Hotel imperial) and given a hero's welcome.

The operation on the ground at Campo Imperatore was in fact led by Lieutenant Count Otto von Berlepsch, planned by Major Mors and under orders from General Student, all German Air Force Paratroop officers; but Skorzeny stewarded the Italian leader first into Rome and eventually into Berlin, right in front of the cameras. After a pro-SS propaganda coup at the behest of SS Reichsführer Himmler and propaganda minister Goebbles, Skorzeny was granted the majority of the credit for the operation.
FOTOS RESCATE MUSSOLINI 100% ORIGINALES
100% ORIGINAL MUSSOLINI RAID IN THE GRAN SASSO PHOTOS
2.- Foto rescate Mussolini , Detalle de la Avioneta Storch.. 100% original con texto Precio 30 euros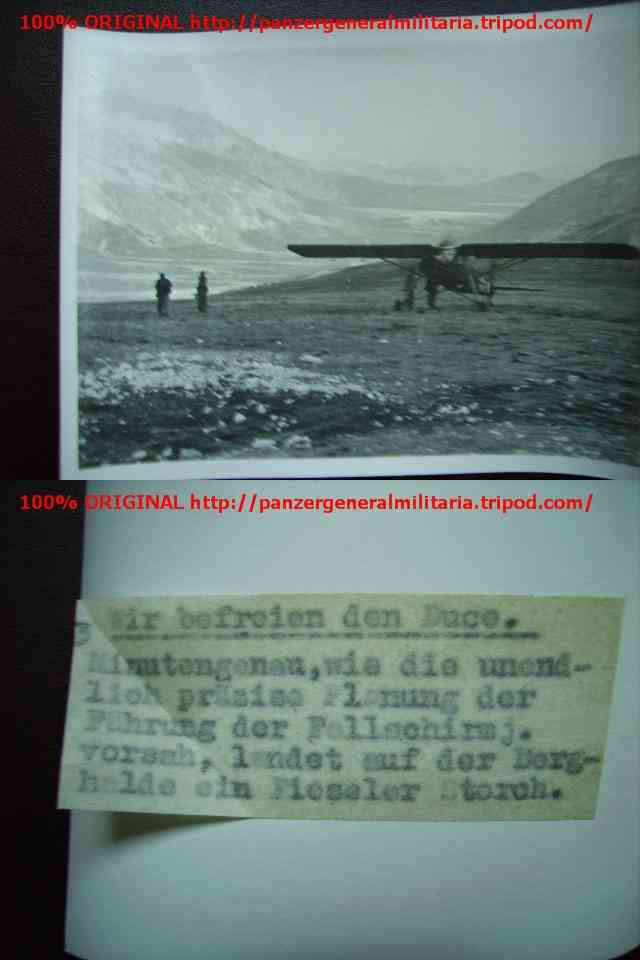 3.- Foto rescate Mussolini , Paracaidista junto a radio. 100% original con texto Precio 30 euros