SALVOCONDUCTO ALIADO QUE SE ENTREGABA A LAS TROPAS ALEMANAS PARA SU RENDICION. EN 1944, TEXTO ALEMAN E INGLES.El SOLDADO QUE PORTE ESTE SALVOCONDUTO DE DESARMARA Y RECIBIRA COMIDA Y ATENCION MEDICA Y LLEVADO FUERA DE LA ZONA DE PELIGRO TAN PRONTO COMO SEA POSIBLE. FIRMA FACSIMIL DEL GENERAL EISENHOWER. 100% ORIGINAL EN MUY BUEN ESTADO. Precio 45 euros
Allied safe-conduct For the german Soldier in 1944 with Eisenhower Facsimil Signature. 100% original
Mapa MLITAR Original Aleman de Polonia , parte de norte de Varsovia Editado por la Wehrmacht, Escala 1:100000 Precio 60 euros
Map of Warshaw/ North. Edited by the Wehrmacht. The scale is 1:100000. The map was made for official use only and it is in a good shape without any damages but some slightly brown parts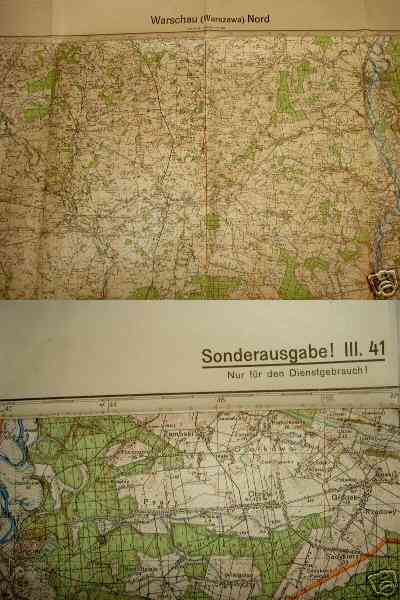 CARNET IDENTIDAD MILITAR SOVIETICO NKGB 100% ORIGINAL FECHADO 1944. EL NKGB ERA EL SERVICIO SECRETO Y CONTRAINTELIGENCIA EN RUSIA DURANTE LA II GUERRA MUNDIAL DESDE 1941 HASTA 1946. PARA COLECCIONISTAS MUY RARO DE ENCONTRAR Precio 75 euros
This Passport Used Like Identifier In Soviet Special Secret NKGB Force.
The People's Commissariat For State Security Or NKGB - Was The Name Of The Soviet Secret Police, Intelligence And Counter-Intelligence Force That Existed From
February 3, 1941
To
July 20 1941
, And Again From 1943 To 1946, And Then Renamed Into The Ministry For State Security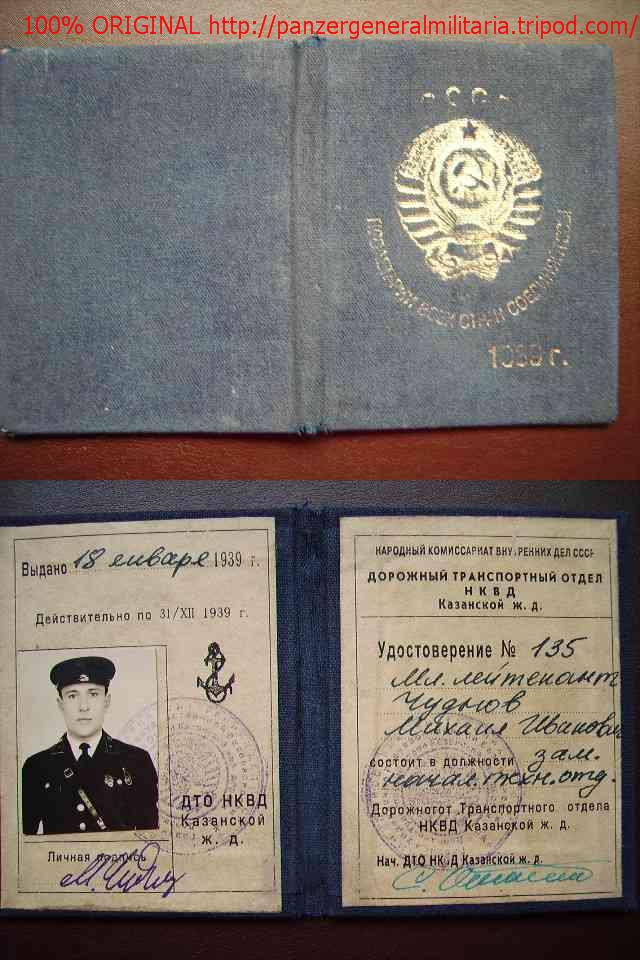 CHAPA ANTI HITLER, TOGO, MUSSOLINI - EXTERMINDAD A ESTAS 3 RATAS (EXTERMINATE THESE 3 RATS) BLANCAS EN PERFECTO ESTADO SE LEE ( "NBC INC CLEVELAND 1941" EN EL LATERAL 100% ORIGINAL DE LA EPOCA DE LA II GUERRA MUNDIAL. Precio 8 euros
BARAJA DE CARTAS PRECINTADA II GUERRA MUNDIAL. + DE 60 AŅOS PRECINTADA. CON SELLO DEL CONGRESO. eSTUCHE DE lUJO. DE COLECCIONISTAS.
Precio 50 euros
Lote 28 soldados de plomo SOLDADOS INGLESES AŅOS 40. En diferentes posturas. Precio 7 euros /unidad.